blog
Cobalt Chart of the Month: March 2021
March 4, 2021
Mind the Gap: A Decade of Emergence in the Emerging Markets
This month, we wanted to look at a perennially under-examined sector (the emerging markets) to see how investors have behaved in the calms and crises of recent memory.  As such, we used Cobalt Market Data to examine the relationship between Net Asset Value and Dry Powder in Emerging Market funds from 2010 to 2020.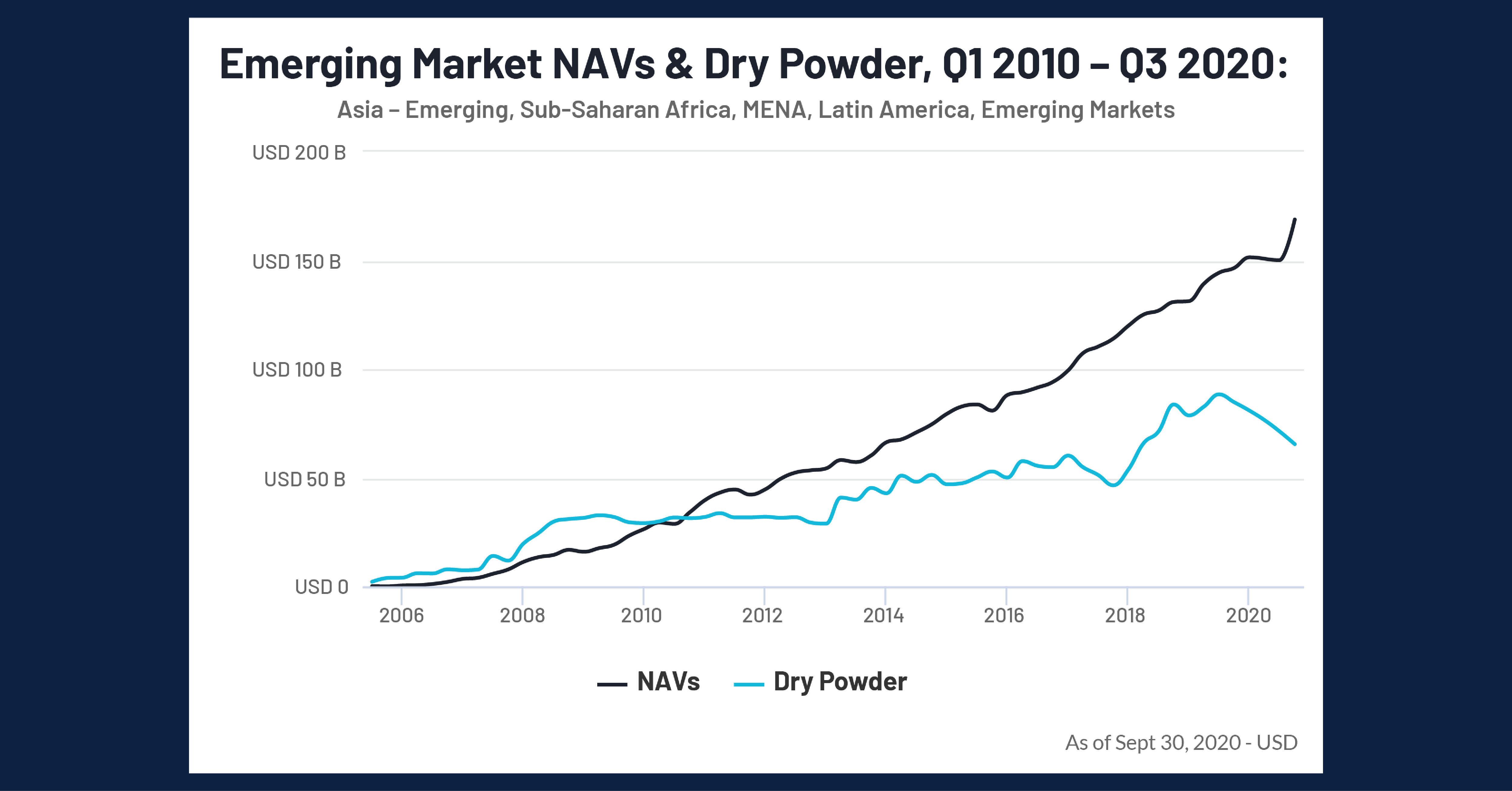 Key Takeaways:
Since 2009, emerging market funding has increased from about $5 billion to a peak of approximately $85 billion in 2019. This 11-year increase is attributable to expanding private equity investment opportunities and a less saturated deal sourcing environment than in the North American and European developed markets.
The influx of funding from 2007 to 2009 led to a substantial increase in fund values leading into Q3 of 2010, where the returns of emerging market funds surpassed the dry powder in the market, a lead that it has not relinquished since. This trend of higher NAV's in relation to dry powder funding parallels the overall private equity market.
The NAV of these emerging market funds exceeded the dry powder funding by a little under 20 billion in 2017, and by Q3 of 2020 it has increased to almost an $100 billion gap, attributable to a strong emerging market investment landscape in 2016 and 2017. This gap was further exacerbated by the 2020 pandemic drawdowns, leading to significant dry powder usage on the newly cheaper assets.
Looking Ahead
Though a pullback may be expected for these funds due to the latest recession, Emerging Asian countries like Malaysia are becoming increasingly efficient exporters. Additionally, the migration of insurance companies and other financial institutions to these developing economies (as well as a weak US dollar spurring easier loan payments from emerging market countries with dollar-denominated debt) will bolster the rapid economic expansion of these nations.
In the event of a short-term pullback, we could expect fund NAVs to decrease to reflect the economic recession experienced in 2020 by emerging economies. Funds invested in EM companies would feel the effect of disrupted supply chains, commodity exposure, and reduced domestic economic activity on their domestic demand and export capacity.
During the upcoming expansionary period, as investors seek growth opportunities for market-beating returns, we would expect dry powder for EM funds to increase. The gap between NAV and Dry Powder would likely decrease in the short term, but in the long run, as we see the MSCI Emerging markets index beat out the S&P 500 for the first time in 3 years, it is clear that public and private market confidence in high growth EM companies exists, and could easily recover once global economic uncertainty decreases.