blog
Chart of the Month: August 2021
August 2, 2021
If You Build It, Will They Come: An Examination of Infrastructure Fundraising Over the Last Two Decades
With the Infrastructure Bill yet again becoming a top priority on Capitol Hill, we dug into Cobalt Market Data to analyze how the infrastructure landscape has changed within private equity over the past few decades. In the chart below, we've taken the total amount raised by all infrastructure funds in our dataset and broken out by vintage years from 2000-2019.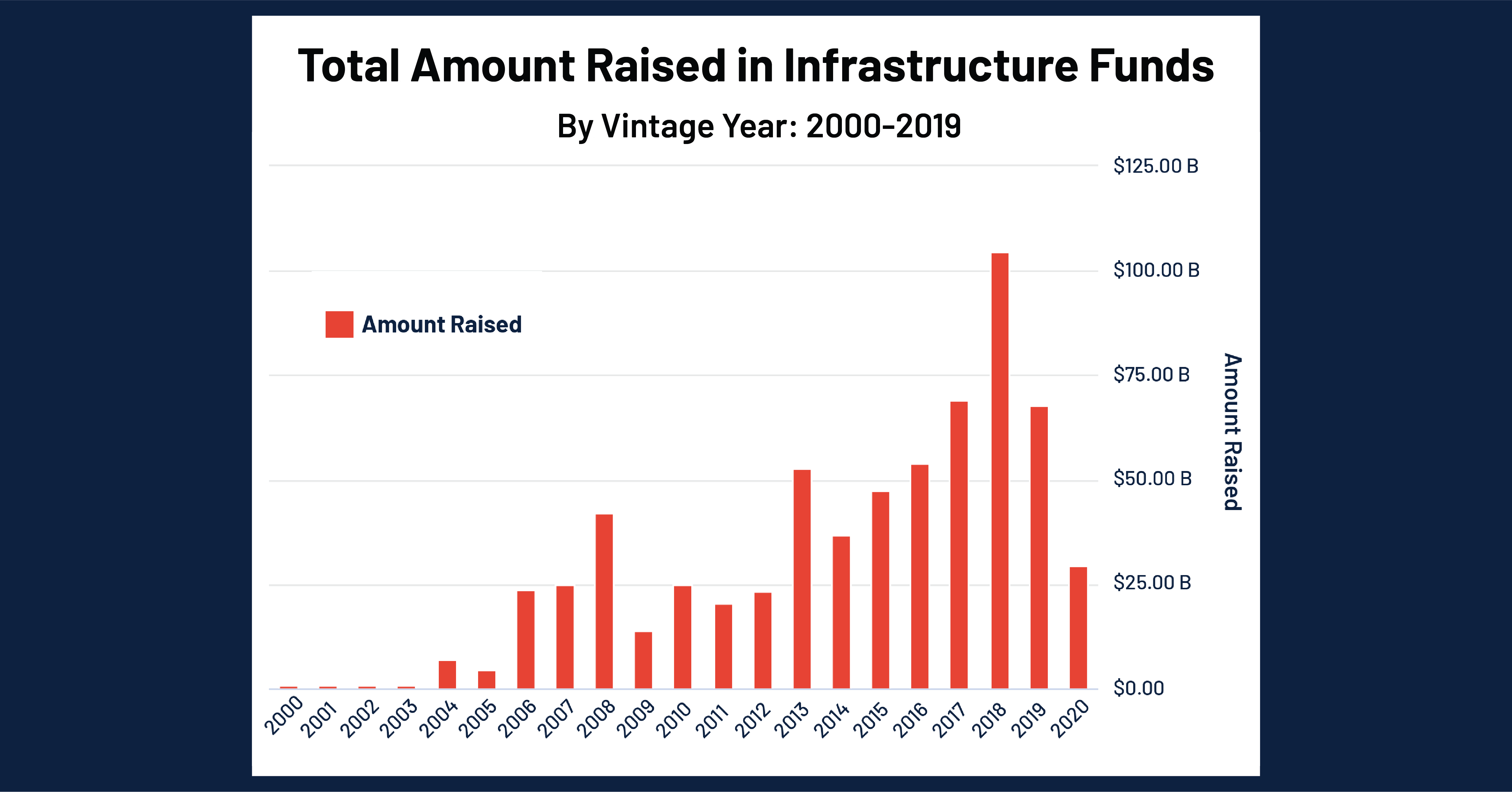 Key Takeaways:
The infrastructure sector has seen consistent growth over the past two decades, particularly since the tail-end of the great recession in 2009. The fundraising peak came in 2018, totaling over $104 billion. This growth follows the overall uptrend of money into private equity and can also be tied to institutional investors carving out a larger allocation of their portfolio for infrastructure and real assets.
There has also been a shift in the structure of the funds being raised; the total number of funds raised actually peaked in 2013 and 2014 as the dollar amount raised continued to rise throughout the rest of the decade. This shift is reflected in the average amount raised for each fund by vintage year, which has been above $1 billion for every year since 2015, peaking in 2017 at nearly $1.8 billion.
A contributing factor here may be the rise of mega-funds within infrastructure, with all 10 of the highest-raising funds in the sector growing since 2015. This shows that while the overall pool of funds is growing, larger totals are being concentrated into the big players in the space that have the resources to raise 11-figure funds.
Looking Ahead:
The next few years in infrastructure investing may depend on the decisions made in D.C., but based off of our analysis there also seems to be plenty of momentum for growing capital in the infrastructure space regardless of outside forces.
It will be interesting to see if the concentration of these mega funds continue, with the larger players raising even larger funds, rather than the swell of new firms in the space being the driving force behind growing amounts of capital being raised.