blog
Cobalt Chart of the Month: April 2021
April 1, 2021
Resource of a Different Color: Trends and Differences Among Private Market Styles in 2020
With the end of Q1 marking the one-year anniversary of the bottom of the drop across all markets due to COVID-19, we used Cobalt Market Data to look at the performance of the private markets in the lead up to Q1 2020 and the following bounce-back quarter. For this analysis, we're looking at the time-weighted rate of return by investment style and have selected four styles to be indicative of the market in general: buyout, credit, natural resources, and venture capital.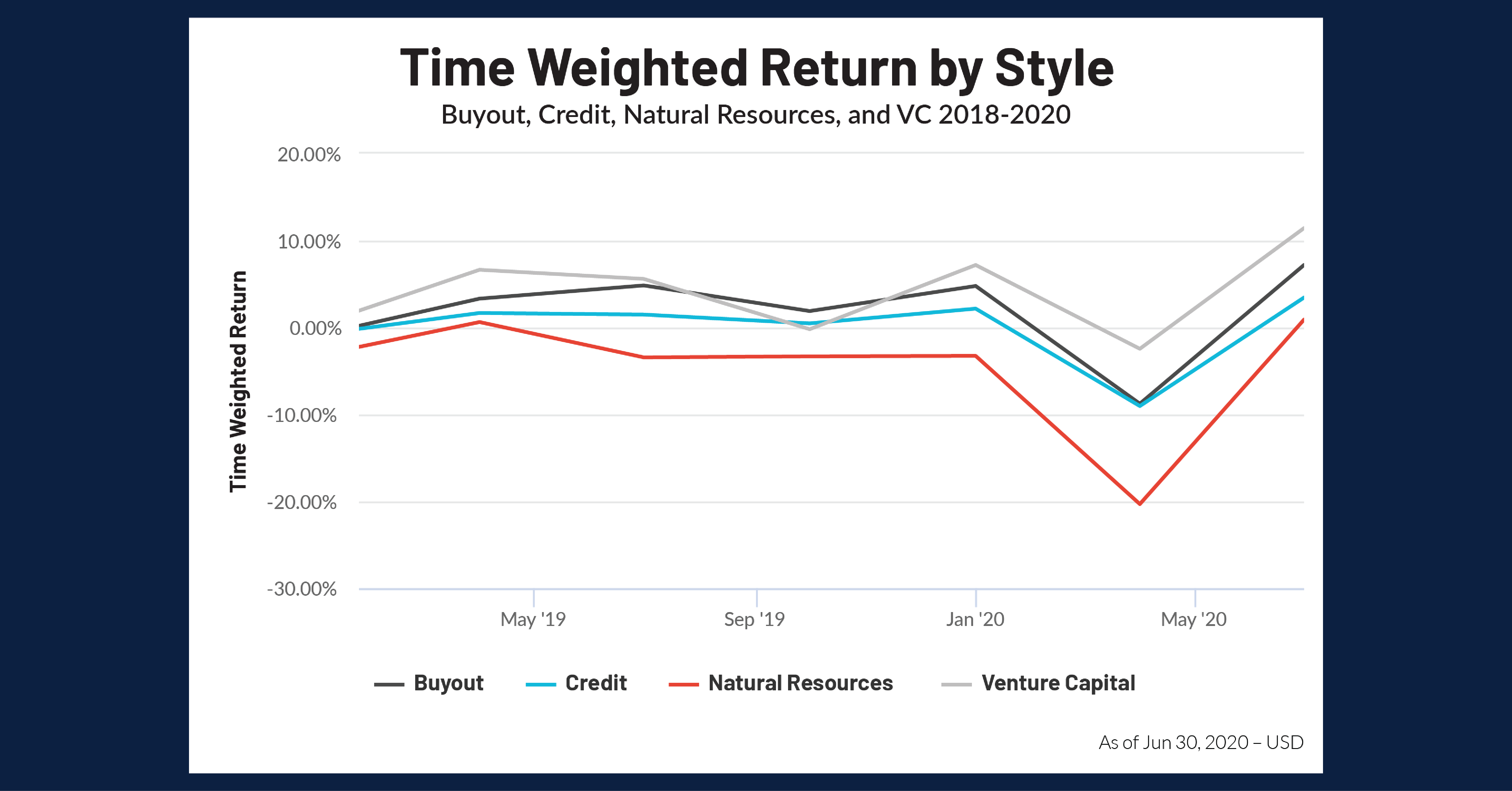 Key Takeaways:
All markets across private equity followed the public market trend, with all of the selected investment styles experiencing declines of at least 9% from Q4 2019 to Q1 2020. All returns went negative, as asset classes across the board were unable to avoid the shock of COVID-19.
In particular, natural resources saw the greatest impact, declining from -3.3% in Q4 2019 to -20.3% in Q1 2020. Natural Resources had underperformed the greater PE markets during the preceding year, and the chasm was accentuated in March of last year. This precipitous drop likely stems from the demand shock on energy and fuel as global travel grinded to a halt, punctuated by oil futures going negative a month later in April 2020.
Buyout, credit, and venture capital saw proportionate pullbacks, however these were moderate when compared with the exorbitant decline in natural resources. A likely explanation for this is that these three styles offer diversification among sectors which helped to somewhat soften the blow, while natural resources are largely tied to the energy sector and its performance.
Looking Ahead
The recovery in the private markets was swift, with each style above posting positive returns the following quarter. This is in line with the greater financial market recovery, even as the economy lagged throughout the rest of 2020.
It will be interesting to see if natural resources stay tethered to the performance of the energy markets. We have seen energy perform well in the public markets in the 1st quarter of 2021, while the tech-driven rally through 2020 began to slow. As the economy further re-opens, we'll see how other natural resource sectors such as timber and mining fare as the economy works its way back to normalcy.
A sub-sector to watch within natural resources is the renewable energy space. Renewable energy and climate solutions have become a focal point of the new administration, and energy-focused ETFs experienced their highest investment levels in over a decade. It will be interesting to see what the impact of this trend is on the energy sector and the private funds focused on it are in the coming decade.