blog
Personalized Dashboards: The Investor Relations Team
July 13, 2021
Investor Relations professionals play a big role in satisfying LP requests and inquiries surrounding overall fund performance. Any IR Team needs to be able to quickly produce a professional report with up-to-date fund metrics and cash flow information. We created the dashboard below on Cobalt's Portfolio Monitoring platform to include key reporting elements that capture big-picture fund performance for inquiring partners and investors.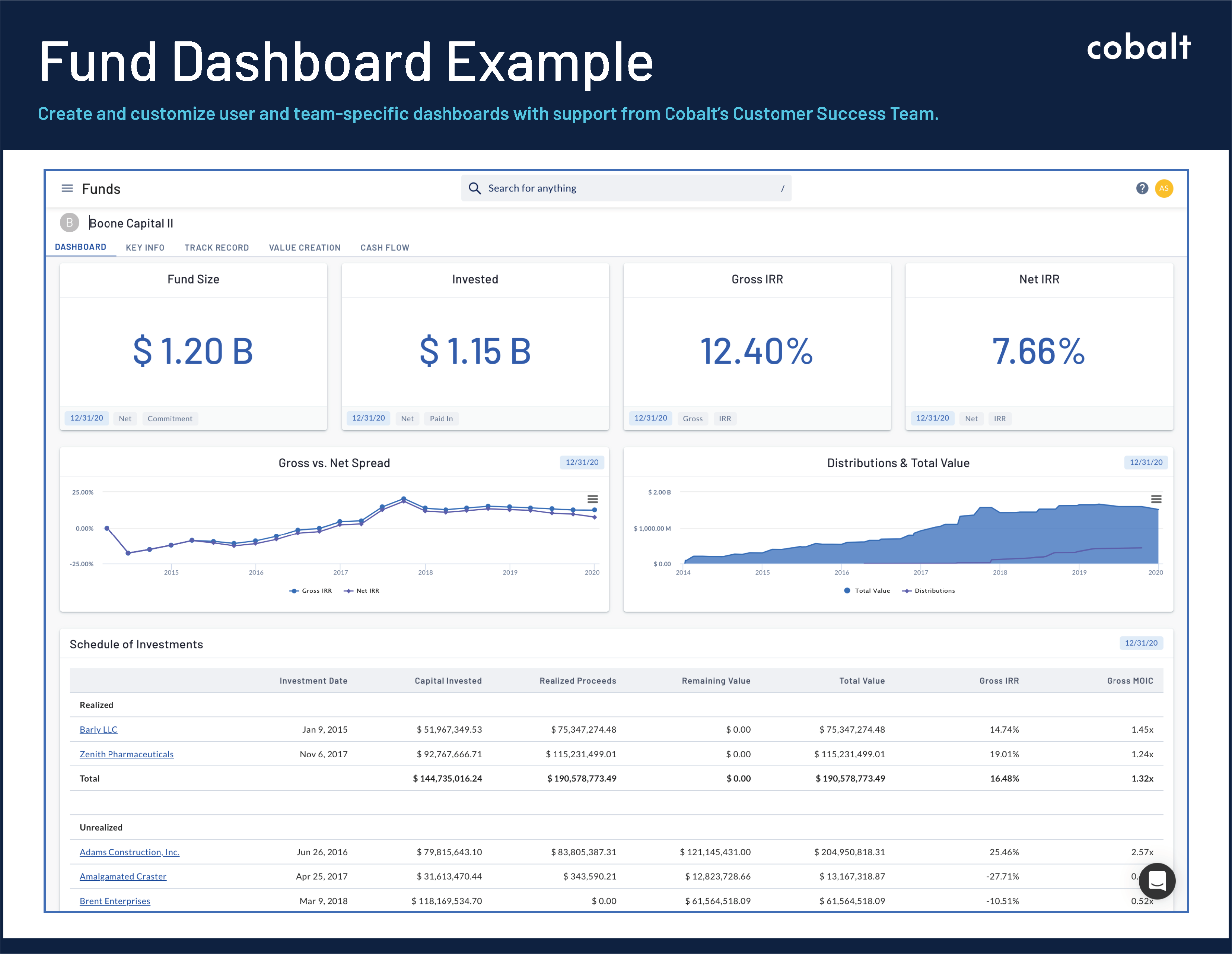 Key elements of our best-practice dashboard for the Investor Relations team  include:
Key metric values

including fund size, invested capital, gross and net IRR. High-level fund performance indicators give a quick snapshot of the funds performance

.

Gross IRR vs. Net IRR Spread: When reporting to investors, it's important to show both the IRR associated with the cash flows from investors to fund, as well as the cash flows from fund to portfolio companies.
Distributions & Total Value

graph gives you an accurate timeline of when distributions are being made compared to the fund's total value.

Schedule of Investments Table: the ability to seamlessly produce SOIs, organized by realized vs. unrealized, allows you to clearly visualize the performance of each investment and see the overall status of the fund. 
Cobalt's Portfolio Monitoring platform gives you the ability to personalize team and user-specific dashboards that are in-sync with the way your firm operates and reports performance. Users can create and customize dashboards on the fly and then easily export to professional, pixel-perfect PDFs that are always partner-ready. Request a demo of Cobalt's dashboard capabilities today.