blog
Chart of the Month: July 2022
July 7, 2022
MENA Reversion: The Roots of Current and Future Trends in Emerging Markets
The recent break in the years-long trend of the "everything rally" across markets means that strong portfolio performance might be harder to come by rather than being a given. This will cause investors to look elsewhere for alpha, whether it be different markets, focuses, or geographies. With that in mind, we examined emerging market datasets within Cobalt Market Data to see which of these markets has been most popular, by both total number of funds as well as fundraising amount.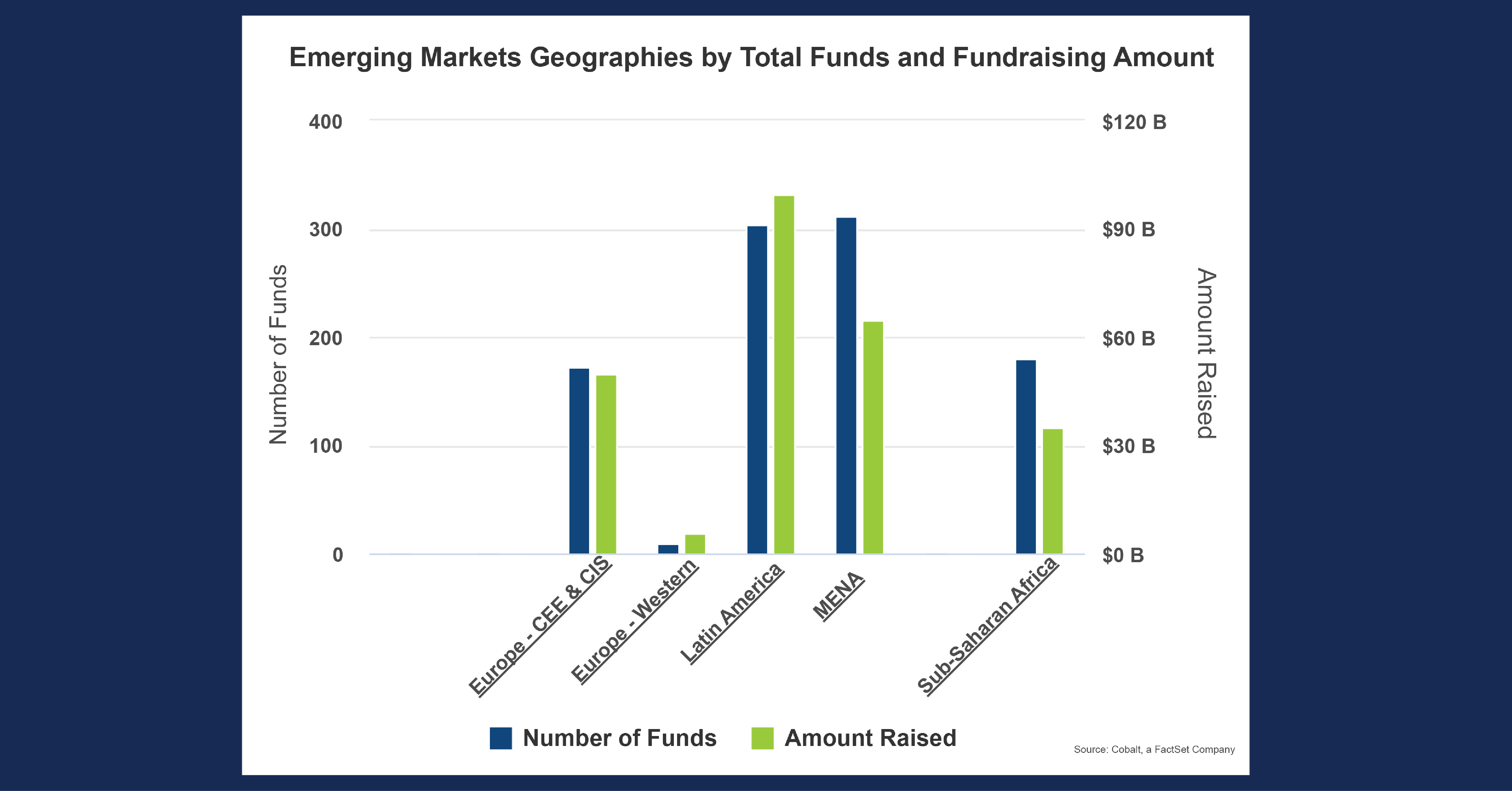 Note: Cobalt Market Data does have an Asia-Emerging classification, but this segment has been removed from this analysis due to being an extreme outlier among the markets in both metrics. 
Key Takeaways:
When these geographies are grouped, the first thing that stands out is that Latin America and MENA (Middle East and Northern Africa) are far outpacing Sub-Saharan Africa and Europe CEE/CIS (Central and Eastern Europe). Latin America (305 funds) and MENA (312) account for 64% of funds raised in the set, with Sub-Saharan Africa (172) and Europe CEE/CIS (180) making up the other 36%.

 

Interestingly, MENA's fundraising total ($64.5 billion) is closer to the smaller two markets than it is to Latin America ($99.8 billion). Latin America is an area of high fundraising activity at larger total fund sizes, while MENA is also an area of high activity, but at a smaller average ticket.

 

After digging into the numbers, the root of the discrepancy becomes evident: 47.6% of all dollars raised in Latin America are attributed to Buyout funds, while Venture and Growth Equity accounts for 16.3%. Conversely, Buyouts are only 19.6% of the MENA market, compared to the region's 58.6% in Venture/Growth. The different approaches in each region account for the differing dynamics in fundraising totals.

 
Looking Ahead:
As the MENA market continues to mature, it will be interesting to see if the pattern between the two regions remains consistent or begins to evolve. We believe that the makeup of the MENA markets will remain for two reasons: the sources of capital and economic ambitions of the region. 

 

Regarding the capital sources, sovereign wealth funds of the region have been investors in private equity portfolios for some time and more often they are looking to invest domestically, along with their current North American/other developed market commitments. Moreover, the economic ambitions of many countries in the region are focused on hyper-modernization over the ensuing decade. This structure bodes well for venture capital funding, as rapid growth and expansion of companies and services in a growing economy lends itself well to the venture model.

 

Zooming back to include all regions, there has been overall growth in emerging markets. From 2000-2009, 223 funds raised $58.9 billion in these regions. In the following decade, from 2010-2019, 523 funds raised $125.4 billion. If this growth continues, we expect over 1000 funds to raise over $250 billion in the regions by the end of the 2020's. We would not be surprised in the least as well if we look back in eight years and these numbers have been surpassed.

 
This blog post is for informational purposes only. The information contained in this blog post is not legal, tax, or investment advice. FactSet does not endorse or recommend any investments and assumes no liability for any consequence relating directly or indirectly to any action or inaction taken based on the information contained in this article.